Hi, my name is Aditi Surma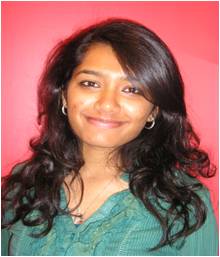 My hometown:
Surat, India ( I currently live in Saddle Brook, NJ)
My high school:
Lodi High School
My Major:
My hobbies/interests:
I love practicing yoga every day.  I also enjoy listening to music and cooking. I like to read anything science or engineering related.
My favorite movie:
A beautiful mind, The blind side, 21
Why I came to NJIT:
I chose to come to NJIT because of its focus on engineering program and smaller campus was a plus for me.
Clubs, groups I belong to:
I am a peer mentor for Community Connections program
Treasurer for Society of Women Engineers
I am also involved with Society of Automotive Engineers.
What I love most about NJIT:
Aside from learning about my major, I love NJIT community. Most of the students and faculty member are helpful and are willing to help you succeed.  I like how our campus is very diverse and that there is something for everyone.
My advice to you as a first year student: 
Eyes on the prize! I think freshman year is very important year and it sets off your college career. It's really easy to get carried away first year so don't slack off.  Ask for help if you need it! Just because you got thru high school without anyone's help doesn't mean same has to hold true at NJIT.  Go to tutoring on campus or study in group.  I found studying in group very effective.  Try new things and have fun!
What do you wish you had invented?
First aircraft
The most fascinating place you ever visited?
smithsonian air and space museum.  I went there during high school with rocket club team that I was part of.  It was very fascinating to me and it just encouraged me to study engineering.
The best surprise i've ever had was?
My sister and dad waking me up on my birthday with chocolate covered strawberries my sister made for me:)
Feel free to e-mail me at: