Hi, my name is Alma Villalba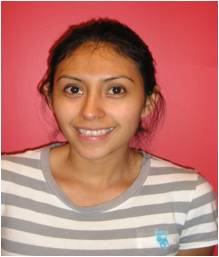 My hometown:
Passaic, NJ
My high school:
Passaic County Tech. Inst.
My Major:
Concrete Management and Interior Design
My hobbies/interests:
Cooking, crocheting, soccer, swimming, rollerblading, traveling, photography, and in the future modeling/acting, music, art, movies,
My favorite movie:
Despicable Me 2
Why I came to NJIT:
Women were considered more and acceptance rate had increased.
Clubs, groups I belong to:
What I love most about NJIT:
It's close to home.
My advice to you as a first year student:
Hard work pays off.  Be as independent as you can be.
What do you wish you had invented?
A machine that gives me more time to get more things done during the day. Or the clone machine so that I can be with everyone at the same time and just come back to my body at the end of the day.
The most fascinating place you ever visited?
Mexico
The best surprise I've ever had was?
I was able to go back to school.
Feel free to e-mail me at: