Hi, my name is

Emily Claus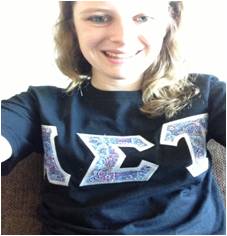 My hometown:
Manchester, NJ
My high school:
Manchester Township High School
Major:
My hobbies/interests:
Architecture, Baking, Music
My favorite Movie:
A Christmas Story
Why I came to NJIT:
I was attending Pratt Institute and found I was not comfortable there and did not like their Architecture program. I then transferred to NJIT where the Architecture programs is more on track to what I was looking for and where I feel like I fit in.
Clubs, groups I belong to:
Alpha Sigma Tau Sorority
Student Activities Council
What I love most about NJIT:
The student involvement and how small the campus is.
My advice to you as a first year student:
Get Involved in Something! You will make friends faster and it will help you network people better.
What do you wish you had invented?
I wish I had invented the computer. It is so useful now and used for everything I would have liked to make that big of an impact in technology and the world.
The most fascinating place you ever visited?
Bushkill Falls in PA. It was so pretty and peaceful and right in PA. It was like I was outside the US
The best surprise I've ever had was?
The best surprise I ever had was when my bf at the time couldn't come to prom and he dressed up in a tux and to at least take pictures.
Feel free to contact me: