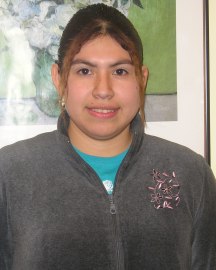 My name:  Karina Aliaga
My hometown:  Lodi
My high school: Lodi High School
My Major: Applied Mathematics
My hobbies/interests:  Just trying to keep in touch with my friends, listen to music (love salsa!) and having fun!
My favorite movie:  There are so many that is hard to pick from, but my old time favorite is "The Wedding Planner," and "Deja Vu."
Why I came to NJIT:  After graduating from Bergen Community College, NJIT seemed to be the best choice especially since its offers a lot of research opportunities for undergraduate students.
Clubs, groups I belong to:  Well, I am currently in UBM research program and work as a professional tutor at Bergen Community College.
What I love most about NJIT: I can truly say that I love that NJIT has opened many doors for me with respect to my academics since I have been able to work on a research and attended a conference in mathematics.  Also, I have met many amazing people that have helped me with the transition of adjusting to a new school.
My advice to you as a first year student:  Always try to make connections, whether they are faculty members or students since it is always going help you make the transition of either transferring or starting a new college become a smoother process.  Also, try to see what this college has to offer for you because you will be surprised of the numerous opportunities and events that you might be missing out on!
Feel free to e-mail me at:  kla3@njit.edu